Katherine the Great
I like to think of myself as a storyteller. Mostly I tell stories about knitting.
Comments Off

on Goodbye, 2014!

Category:
fun
,
knitting & crocheting
,
nature
,
Sydney
,
travel
Our first morning in Ireland started out with breakfast and the best coffee of my life.
It was in a little pot, so I put sugar cubes in my cup, poured hot coffee over them and added half a cup of milk just the way I like. and it was still hot. Ya'll, it was like angels singing.
Then we headed off to a river and lake tour aboard the Corrib Princess. Our tour group joined a boat half full with lovely Irish folks. Speaking of angels singing, one Irish gentleman, Dennis Clare of County Clare, sang Irish Ballads as we traveled up the beautiful river. It was transcendent.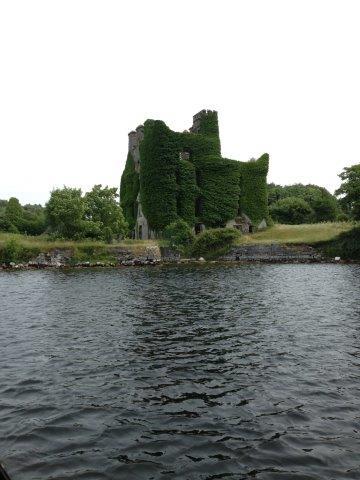 Until they asked our group to sing. To say we were horrified is putting it mildly. Not a strong singer in the bunch and geographically diverse to boot, we had a hard time coming up with a song we all knew. We quickly chose America the Beautiful and it was a bit of a train wreck. There are some really high notes in there. They did not ask us to sing a second song.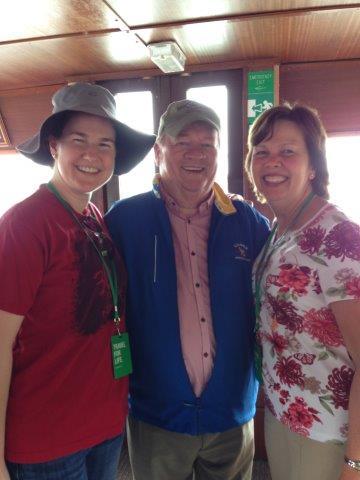 Dennis agreed to take a picture with us and then picked it back up and we listened to more beautiful singing while enjoying the view.

There was a castle with vines growing all over it.

Swans meandered along.

You could practically see the fairies that lived in the little glens off the river.

It was magical.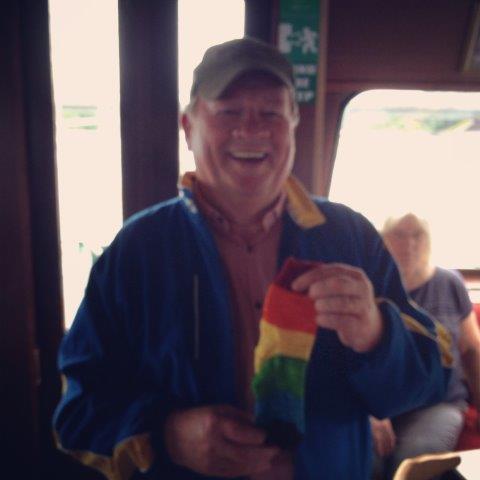 As I was getting off the boat, Dennis was gracious enough to take a quick sock pic; I gave him a hug and he wished me luck in whatever road I go down. He is everything I thought an Irishman should be and I was completely charmed.
* My humble apologies to Dennis if he's from a different county. It sounded like Clare to my Texas ears. I am sure his last name and his county were the same.
Tags:
corrib princess
,
Ireland
,
knitting
,
sock

Category:
travel
After arriving back at the Harbour Hotel in Galway, we had dinner and I enjoyed the best ice cream I've ever had. ever.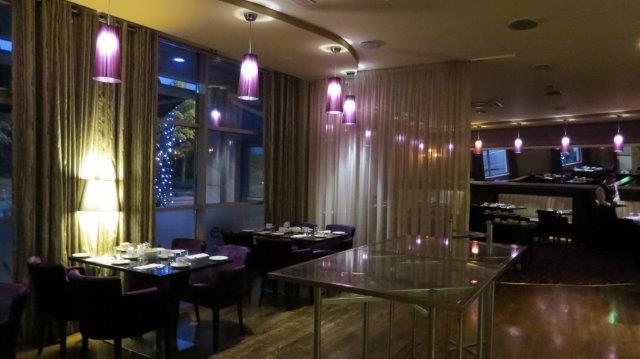 As the MIL and I were settling in for the night, I ran down to the front desk to ask how to turn on the lights. Evidently, you had to stick the hotel key in a slot on the wall – so when you leave the room, you can't leave the lights on. I'd never seen such a thing. Thankfully, the gentleman at the front desk was very nice about my ignorance.

And he was just as pleasant when I showed up 5 minutes later to ask, "Where is the thermostat, please?"
Front desk guy: "Miss, there's no AC."
Me: "No AC?"
Front desk guy: "I can send up a fan."
Me: "Oh. Yes, please. That would be great."
After the fan arrived, we were getting tucked in to try to sleep when we realized there were no top sheets. Luckily, my PJ's look like something Doris Day would borrow, so I traipsed my happy arse back down to the front desk. again.
Me: There's no top sheet on my bed, may we get a couple of sheets?
Alan: sheets?
Me: Yes, we need top sheets.
Alan: Top sheets?
Me: Yes, I need flat sheets.
Alan: There are no sheets on the bed?
Me: There's a flat sheet on the bottom, but I'd like another flat sheet to go on top because we're used to AC and it's too warm.
Alan: You want more sheets because you're hot?
Me: Yes, we want to sleep with just a sheet and no comforter.
Alan: I'll see what I can do. (in a "we don't just have mountains of sheets laying around" tone*)
Someone knocked at our door 10 minutes later with flat sheets.

*I'm exaggerating. He was very nice to a crazy girl from Texas.
Tags:
Galway
,
Harbour Hotel
,
Ireland