Comments Off

on Hockey in the Twilight Zone

Category:
hockey
Last night's game was the craziest I've been to so far:
1. Prior to the game, I saw a Diamond Ice Girl practicing her dance moves in front of the mirror in the ladies room. I should have seen the foreshadowing.
2. I also ran into a woman dressed as Flo, the Progressive lady. Halloween weekend and all that.
3. The Aeros pulled their goalie about 10 seconds into the game. This was a little disconcerting since that's normally a desparate end of game kind of move. We figured that there must be a history between the teams that whoever scores first blood must win the games because otherwise, this was just sheer lunacy.
4. A kid in the row in front of us lost a tooth. I suppose he was wiggling it. His dad's response was that "lots of guys lose teeth during hockey games" and stuck the tooth in his pocket for safe keeping.
5. The announcer all of a sudden summoned the team doctor to the locker room in the middle of the first period. As far as I could tell, none of the players were in the locker room and none were headed in that direction. freaky.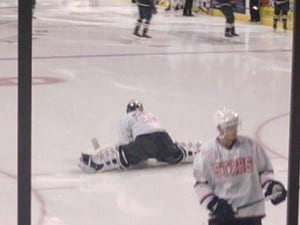 6. When I let the lady next to us pass me at one point, she stepped full on my foot and then looked down to see what she'd stepped on and said, "was that your foot?" like my foot had no business being there. I resisted saying, "Um, yea, it's been attached to the bottom of that leg for 32 years now, fancy that". I said, "yes" and she said "I'm sorry." I was fine, but I'm still wondering where else she thought my foot would be.
7. At one point, when the Texas stars were down 1-3, a gentleman two rows back began yelling, "Go (ice) bats!" and mumbling "maybe that will help."
8. I think the refs were high. They called an insane number of penalties but managed to miss several obvious calls.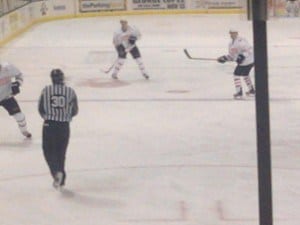 -They missed an offsides call on Houston right before they scored.
-They also missed calling one of the Stars' goals entirely.
-And what looked like a high stick to the face caused a bloody nose on Brunnstrom, but they didn't call that.
-At TWO points during the game, so many penalties had been called that the teams were playing 5 on 3. Ref #45, you're on my list.
9. Tonight's game included the first real fight I've seen between the Stars and Aeros and it was hard core. At one point, they hit their knees but bounced back up and since the refs were under the influence, they kept fighting until they were really down.
10. On a night when the Rangers won game 3 of the world series, you'd think they could play nice, but maybe the Astros fans were a little riled up.
11. A tiny lady was yelling "Khudobin (Aeros goalie), you suck!". We were all pretty ticked at this point since we had twice as many shots on goal and half as many points and he's not THAT good. I supported her wholeheartedly. A guy responded, "shut up!" and she came back with, "you want a piece of this?" while she looked around at whoever was daring to challenge her right to heckle the goalie.
12. An Aeros player was sent to the penatly box; the Cotton-Eyed Joe came on and he actually started dancing and riding his hockey stick like a horse. fabulous!
13. The Stars played most of the last 3 minutes with no goalie, but were unable to score. Final score was 1-3.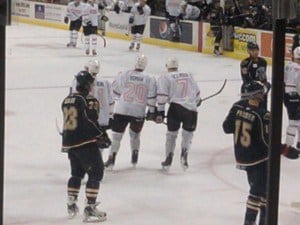 In short, I do not think it is a good idea for the Stars to wear a different color jersey/use pink sticks. Tonight was a little bit of a disaster. On the other hand, I may just try to focus on how entertaining it was and that it raised a lot of money for a good cause.
Happy Halloween!