Katherine the Great
I like to think of myself as a storyteller. Mostly I tell stories about knitting.
Comments Off

on Goodbye, 2014!

Category:
fun
,
knitting & crocheting
,
nature
,
Sydney
,
travel

Category:
knitting & crocheting
,
Leaf
,
Sydney
New Year's Resolutions 2014

1. Frequent more local eateries.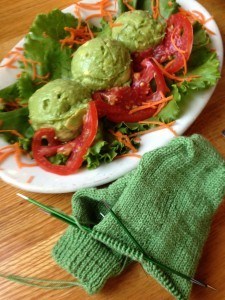 fyi: the guacamole at Mother's Cafe is delicious!

2. Finish the quilting project I've been working on by April 15. The Husband and I worked on the taxes New Year's Eve, so I should have some free time in early April.

3. Don't be jealous, but I also spent New Year's Eve cleaning off my desk while enjoying a mimosa. That's how I roll. Start 2014 with a (mostly) clean desk – check!

4. Continue to enjoy driving my all electric Nissan Leaf! 37k + gas free miles and counting! (Stop spending the money I'm saving on yarn. The stash is getting out of control.)

5. Eat more fresh fruits and veggies and frequent the farmer's market.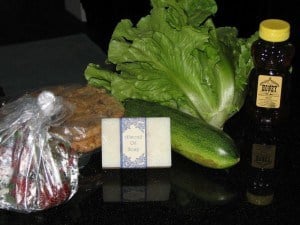 6. Take more time to smell the knitting (or roses).

8. Try 1 new healthy recipe per month.
7. Increase my machine sewing comfort level (from you know, almost none).
8. Finish 14 pairs of socks.
Including my Hunter Hammersen Swoopy Thing on the Foot Socks (more on that tomorrow).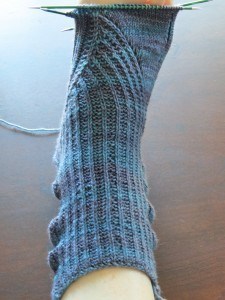 …and the socks formerly known as the Glass Slippers (
Bea Socks by Christina Wilkins
).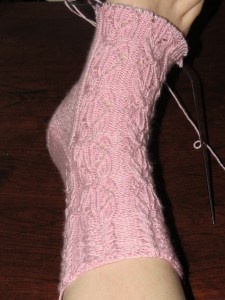 9.Do NOT buy any more items for wrapping gifts. My gift-wrapping supply inventory still makes my yarn stash seem sane.
Have a very happy 2014! I wish you all an amazing year!!!
To see what others are working on, check out:
Tami's Amis
Small Things
Frontier Dreams
Tags:
hunter hammersen
,
New Year's Resolutions
,
WIP Wednesday
I just finished reading The Selection and The Elite by Kiera Cass. These books were quite a bit better than I expected. The characters have some depth and there are political and moral dilemas. I do get frustrated with love triangles that go on for three full books, but what can you do, that seems to be the style right now. Here's hoping Aspen imprints on someone else in the third book. (yea, I'm Team Maxon.)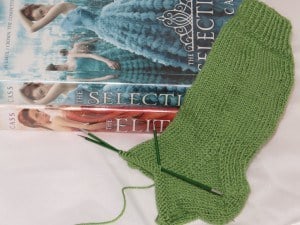 In the meantime, I'll be knitting. starting with these tiny green socks for my favorite 3 year old. Said 3 year old SELECTED the Cricket colorway (see what I did there). The yarn is Spud & Chloe fine sock yarn (80% wool and 20% silk). I love the feel of it and I'll be using it in future to show off some sharp cables and lace patterns. But, the crisp stitch definition is a double-edged sword because it sure doesn't hide mistakes.

To see what others are working on, check out:
Tami's Amis
Small Things
Frontier Dreams

Ps.Last night, Sydney slept in my lap while I knit and watched Suits on tv. It was a lovely evening!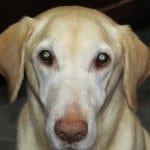 Tags:
Keep Calm - Craft On
,
WIP Wednesday
,
Yarnalong