1. RIPD (rest in peace department) was quite a bit better than I expected. Granted, I wasn't expecting much given the lame title, but it did entertain me.

2. Ryan Reynolds pulled off the unshaven look really well. He's kind of clean and pretty, so I wasn't sure it was going to work, but it did.

3. This movie struck me as a cross between Ghost and Ghostbusters. I liked both of those movies and when this comes out on DVD, I'll be watching it again.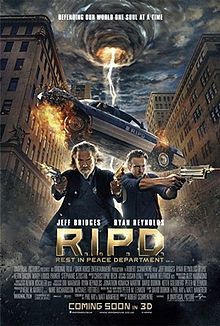 4. Kevin Bacon made a really good bad guy and Jeff Bridges was quite a bit less annoying than he could have been.

5. Mary-Louise Parker was rocking the go-go boots.

6. If you liked Men in Black 3, I think you'd like RIPD.

7. There weren't really any knits to speak of, so here's my current project.

To see what others are working on, check out:
Tami's Amis
Small Things
(I'm still listening to "Salt Sugar Fat: How the Food Giants Hooked Us".)
Frontier Dreams
Tags:
hunter hammersen
,
Lycaena virgaureae
,
R.I.P.D.