Category:
family and friends
,
travel
TH and I went to the DC area to visit my SIL, BIL, and their munchkin. He's too cute for words.
After the guys got Chipotle for dinner, I got to rock the Nephew to sleep. There are some things even Mastercard can't buy…. but I did use it for the plane tickets. (4/2/11)

Sunday, we woke up and got some breakfast at the diner nearby (Star Diner). Nephew enjoyed running around and talking to strangers.

Then we took the subway to the mall and went to the Old Post Office. On the way to the P.O., TH swung into the National Aquarium and bought another glass fish as his from the last trip met with an untimely end.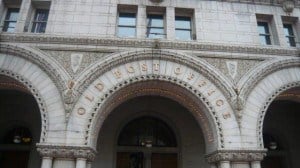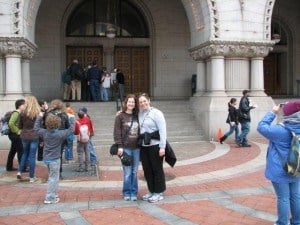 Nephew was a great sport about waiting in line to go to the top.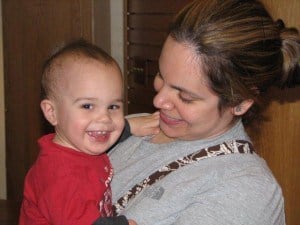 There were places to eat in the P.O. and we grabbed a quick snack. I also got some cherry chocolate to remember the Cherry Blossom festival by at the Chocolate Gallery.

We checked out the Cherry Blossoms and generally were very touristy prior to dinner at the Cheesecake Factory.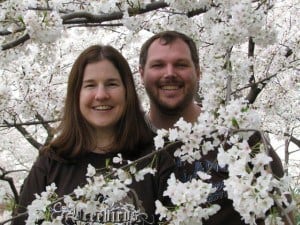 On the way home, Nephew really got into the subway riding.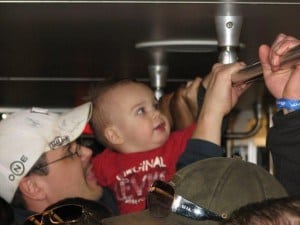 Monday (4/4/2011), we roadtripped to Norfolk, VA (got Starbuck's on the way). I tried to teach the Nephew to say, "Winning!" like Charlie Sheen the whole trip, but he never took the bait. He did enjoy laughing at all of our Charlie quotes though.
We got PF Chang's for late lunch. You might be thinking that we should not eat at chains and should try the local flavor, but that way lies folly and I'll get to it in a minute. I asked for lemon with my water and I got plain water. So, when I saw the waiter, I asked for a lemon and he said, "a whole lemon?" "what? no! a lemon slice for my water." Who asks for a whole lemon at a restaurant? weird.
At the PF Chang's Nephew fell asleep and BIL ended up taking him back to the hotel. At one point, he was carrying the recycle bin around (he's green at such a young age).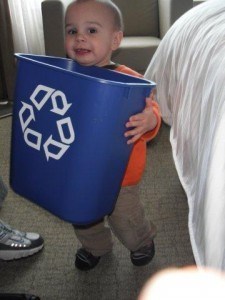 So, TH and SIL and I went to the mall. Turns out this mall (pembroke) was geared towards men. There was a Radio Shack, a sport clips (where TH got a haircut), a Cookie place, an interesting collectible store (think star trek, star wars, etc), and a Game Stop (where TH got a Naga gaming mouse)..we made endless jokes about "Naga Naga Nagonna work here any more anyway."
SIL and I were bored with this fairly quickly and got directions to the real mall (Lynnhaven) from the girl in Bath & Body Works (where a guy would buy hand soap). SIL and I left the mall with my phone in GPS mode and headed out into the sun to find the yarn store a block away. As we walked towards a neighborhood I tried to explain to my non-knitting SIL that sometimes yarn stores are in old homes. That is just how they are. I've even been to a yarn store in an apartment in Austin. I won't go back and I was a tiny bit afraid for my life at one point, but I was told there would be yarn, so I went. SIL was not biting. She calmly informed me that she would be happy to wait outside and let TH know what had happened to me, but no way was she going into a house with me for yarn. I said, well, let's keep going. It turned out there was a strip center to our left and the yarn store was acceptably housed for her to enter. We went inside the Yarn Basket and I looked around.

When I'm on vacation, I like to try to buy yarn that has been locally spun or dyed. So, I nicely asked the lady if she had any locally dyed yarn. She looked at me like I was a moron and said no. I explained that I was a knitter from Texas and like to get souvenirs. She just kind of stared at me. So, I asked where her sock yarn was. The selection was meager at best. I really feel like the Michael's in Austin had more yarn to offer that I'd be interested in and by this point, she had made me feel so unwelcome that I wasn't buying anything. So, we left.

We went back to the hotel and then all went to dinner at the Oyster Bar. Loved it! Hamburgers, shrimp, Nachos, everything was good!

Tuesday, 4/5/11, TH and I gave a local venue a shot. We had brunch at Guadalajara in Virginia. Turns out I should have followed my rule not to eat Mexican food outside of Texas. I ended up requesting jalapenos. The waiter responded, "a whole jalapeno?". Evidently, I look like the kind of girl that eats whole fruits and vegetables. I responded, "no, sliced jalapenos, like people put on nachos?". He seemed to understand and came back with a bowl of sliced jalapenos, so that was progress. Turns out, that's my best advice on how to save a meal if you are about to eat REALLY bland Mexican food. Order a bowl of sliced jalapenos and turn it upside down over your entree. Worth every penny of the 1.75+tax they charged me. Oh, one more thing. If they call queso "cheese dip", just go ahead and order the jalapenos right then.

We met up with SIL and nephew and checked out some apartments.
While in the office of one apartment complex, a lady asked TH if he knows anything about computers. There's a pause because SIL and I both are not answering for him and ratting him out, but he knows about computers the way the Pope knows about Catholicism. Finally, in the understatement of the year, he says, "a little bit", because he's not sure what he's getting himself into. Turns out she's having trouble printing a powerpoint presentation and I could have helped her. :)
TH, SIL, Nephew and I ran around Virginia beach a little bit and among other things stopped at the Knitting Corner. This shop has been around since 1948. After a few minutes inside, it was clear why. The owner was there and not only was she helpful and had a great selection, she was really nice…..as I expect people that get to work among lovely yarn should be. She helped me select some yarn for socks that I'd not worked with before (Ella Rae Lace in purple) and I picked up some Malabrigo sock yarn in Africana Violeta and some Sirdar purple baby bamboo yarn that was on sale. You may be sensing a theme, but I swear there were all different colors of yarn in her shop. I just ended up buying all purple. TH admired a Louisa Harding Merletto wrap so I ended up buying Merletto Beauty online since she didn't have any in stock. I must admit that now that I've knitted with Merletto, I'm not that crazy about it. It splits VERY easily.
…and then we picked up BIL and headed to the real mall where we got a snack. I had a crepe from Crepes Duo ( a lovely strawberry concoction) and then we all walked around the mall for a couple of hours and then went to Chick's Oyster Bar for dinner again because after all, it was local and delicious!
The guys were good sports and waited while Alyce and I checked out the Atlantic ocean. BIL even drove around the block so no one would think we were casing the place. Thank you, BIL! I appreciate you humoring me.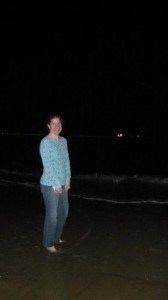 Wednesday (4/6/11), I got up early and then did a little shopping in downtown Virginia Beach. I visited The Royal Chocolate shop. They were very nice and accomodating. They packed my chocolate with ice so I could leave it in the car on our way back to Maryland. They had tons of different chocolates to choose from including Bacon Chocolate!

We checked out Busch Gardens in Williamsburg. Here's some advice should you ever visit:
do not eat a cheeseburger that tastes a little off.

do not rid three roller coasters twice each right in a row since you're there during off season and there's no line.
when your Navy pilot BIL suggests that you not ride the third coaster a second time in a row RIGHT then, you should reconsider.

when same Navy pilot decides to skip the fourth ride, follow his lead because you may be getting on a virtual motion ride that spins you around in pitch black and tries to disorient you. This will only serve to make you completely green. Turns out what they're really teaching you at OCS is good decision making.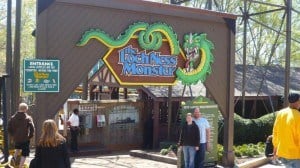 On the way back to Maryland, we stopped to eat an Ihop. Worst Ihop experience ever. Their service was crazy slow which is super fun when trying to wrangle a tired toddler and our order wasn't what you'd call 100% correct in addition to the food not being up to par. We were all regretting this choice by the time we left. We finally got home to Maryland and everyone was pretty beat.

Thursday, SIL and I went out and got Einstein Bros. Bagles for breakfast. I believe this is the first time I've had them and I rather enjoyed my Thin Plain Bagle with Blueberry Spread.
And, of course, we celebrated TH's B-day. I think Nephew enjoyed the cake more than anyone, but here's a pic of the birthday boy. Happy Birthday, TH!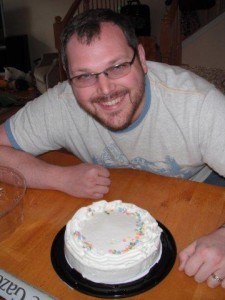 Tags:
LYS Review