Comments Off

on Happy B-day, Meghan!
Category:
family and friends
,
knitting & crocheting
This past Sunday, some friends and I gathered to wish one of us a very Happy Birthday. And we did this in a very unique way. We gathered at Gauge Knits in Austin and took a yarn dyeing class from White Bear Fibers. It was a ton of fun and we were all pleased with our creations.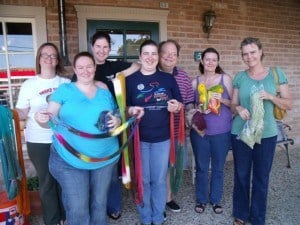 Kerry went first and chose a beautiful light sage green concoction. In true Kerry fashion, she was very efficient and was finished in a few minutes. Gorgeous!

Bonita dyed 3-tone hanks (lime green, daisy yellow, and persimmon). She was inspired by tulips and they came out gloriously.

Michelle handpainted a green and blue striped pattern that I will call Lochness. It was very deep. I can't wait to see what it becomes.

Don dyed eggplant and taupe. It looked sophisticated and masculine.

Meghan dipped an oxblood and chocolate hank that was really rich. I think she should call it My Wedding since it is the colors from her wedding. She also handpainted a two-tone red and then green skein that she said looked like apples. Granny Smith and Red Delicious!

Lisa dyed a 3-tone aqua skein that we were all fans of and there might have even been some envy. She also worked with WBF to get just the right UT orange. She used the highlighting technique to give it some brown and it really did look burnt. Perfect!

I dyed a pink (magenta, I think) and cream (undyed) and green (chartreuse) hank I was really pleased with. Perhaps I'll call it froggy lips, but it reminded everyone of various flowers. I really enjoyed saying chartreuse. I kept accidently calling colors chartreuse which was pretty confusing. Perhaps chartreuse will be my new curse word. What the chartreuse is going on?!?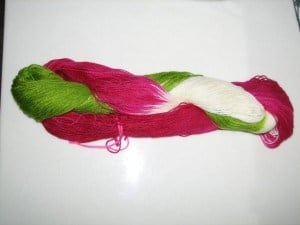 The other hank I'd like to use to make "A Roll in the Hay" socks, so I used the highlighting technique to create a color I'll call Dominican Amber because it is mostly "transparent" and even has a few inclusions! The inclusions were created by accidently getting a tiny bit chocolate colored dye on the hank while highlighting. oops!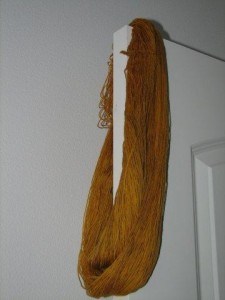 Then the whole group painted a grafitti skein together! Overall, everyone's yarn was unbelievably lovely and pretty and I cannot wait to see how all of our stuff knits up!

Thank you everyone so much for coming to celebrate Meghan! Special thanks to Karli of Gauge and Doug of White Bear Fibers and his helper, Kim! We'll treasure the memories forever and ya'll were super welcoming, helpful, patient and nice!

Happy Birthday, Meghan!