Comments Off

on Socks are love.

Category:
family and friends
,
knitting & crocheting
Generally, I think it is quite tacky to post about a gift item prior to giving it, but I can't wait to share these socks, and I'm not sure when I'll get to visit my Grammy, so I'm breaking my rule. She's a lovely lady and she'd probably want you all to be able to admire her socks as soon as possible. The good news is that I'm pretty darn sure she's not keeping up with my blog, so I won't spoil the surprise. Hmmm. I may not be able to wait. I may have to mail her these puppies. I don't think I can take it… guess I need a new tagline
Katherine the Great
– more impatient than you can imagine.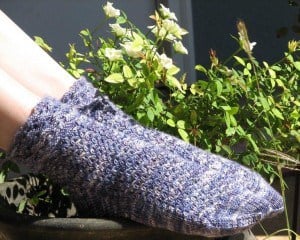 These socks are soft and beautiful and lovely and wonderful and they totally remind me of her. This is, interestingly enough, the first pair of socks that I'm like wow, these are lovely. Don't freak out, I didn't just wake up and decide my knitting is fantastic – I think it must be the silk yarn (Southern Silk Sock from White Bear Fibers in Starry Night) and the pattern (Usak). Yet another from the Silk Road Socks book by Hunter Hammersen that is fabulous. I like it even more than expected which seems to happen with every pair from this book. What is amazing is that I expect to like the socks and then somehow I like them even more. every time.

So, here's to my Grammy. Let's all take a moment and send a happy thoughts her way. She's a great lady; I hope she likes these and that they fit!

update: she got them in the mail Sat. 10/15 :)