Hunter called for test knitters and I was fortunate enough to try this pattern for her. I am thrilled with the first sock and the second one has been singing along. I'd actually been looking forward to knitting these socks since Hunter blogged about them. She was writing about rain and they looked like rain to me, but was knitting them in an orangey red and I kept hearing the Adele song "Set Fire to the Rain" on the radio, so I called the socks this in my head and hoped that soon I'd be able to knit them up……in blue….per my usual m.o. One of the coolest things was that it really rained here just as I was finishing the first sock, so I guess knitting these is some kind of rain dance! Look!!! Green clover!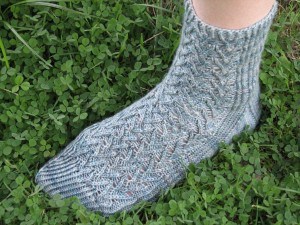 I really enjoyed the pattern. This was my first time to try Handmaiden Casbah (color: salt spray) and it is beautiful. For some reason, I have a bad feeling about how well it will hold up, but time will tell and I'll report back. I do recommend magic loop rather than dpns for this pattern due to the charts. Totally worked out for me since I was magic looping due to a plane knitting strategy and then decided that was smart way to go about these socks.

The pattern should be out soon if you are a fan.
Ps. Happy Valentine's Day!