Category:
nature
,
Sydney
TH's dad was over recently and asked if we were growing dandelions. Growing dandelions? If by that you mean, not mowing them, then yes, we are growing dandelions. Had we thought about it, perhaps we should have harvested them for dandelion soup or at least claimed to have such a plan.

Austin hadn't had any rain for a long time and then suddenly it rained quite a bit. The weeds were out of control….and TH and I had gotten so used to not mowing the nearly dead native grasses in our "lawn" that we didn't jump right on the mowing thing when it began to be an issue. Observe.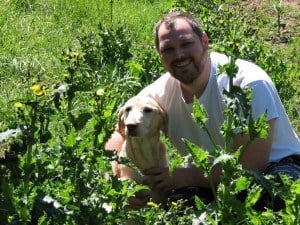 Some people take pretty pictures in bluebonnets, not us, we take pictures in our weeds. That's how we roll.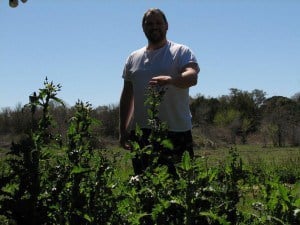 This pic is for Rebecca, who says that TH's face is shadowed in all the pictures I have framed of him on my desk. She seemed to be caught between the ideas of him being fake or a spy.
Everyone else, don't worry, we didn't let the weeds get so out of control that we lost Syd in them. TH mowed right after I took the pics. That is after all, where I draw the line. If you can lose a 65 pound dog in your weeds, you need to mow. :)