Category:
Sydney
Thank ya'll for your positive thoughts/prayers! Sydney came home from the vet last night and will go back this weekend for a checkup. They were all very sweet to her; she may be spoiled by all the canned dog food and having a full staff. She is doing better, but we're still not sure what caused her illness.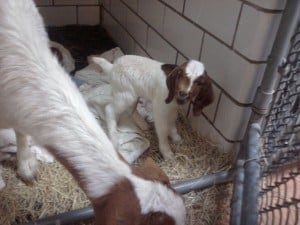 There was one upside to her vet visits. I got to see two brand new baby goats! They were so cute and fuzzy! This particular baby goat was pretty vocal so I'm sure Sydney was happy to leave the noisemaker at the clinic.

Welcome Home, Sydney!!!