Well, my girl's home and she seems ok. She's not up to her fighting weight (needs go gain about 7 pounds.) Are you as jealous of that as I am? :) We have taken a couple of walks to the end of the street, but no farther. It seems so crazy for her to be lagging behind after a half mile. The two miles we used to walk never seemed to slow her down. The vet is most worried about the muscle loss.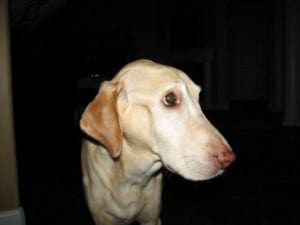 See? Poor poor Sydney! So, he's still researching that, but in the meantime, she seems like she's gonna live, so I can't tell you how grateful I am for all the positive thoughts and prayers. If you would like to keep them up, we'd really appreciate it!!

While waiting on her to get tests at the vets, I've worked on a sock while alone in the exam rooms. It seems terribly morbid being that it's a plain black sock, but actually, it was exactly what I needed:
1. Mindless knitting.
2. Pattern that The Husband is willing to wear.
3. Using gift yarn that I could never make socks for myself with because I'd go blind trying to read the stitches with my favorite complicated patterns (if you're a non-knitter, stitches in black sock yarn are VERY hard to see).
4. Color TH is willing to wear (choices were black or white). :)

This project came about at exactly the right time so now, I officially believe in knitting fate.