Last weekend, The Husband and I went to see this movie, but it was sold out….three weeks after opening. good sign.
Then, a friend told me that her husband read the book and found the movie disappointing. bad sign.
I still imagined I would enjoy Abraham Lincoln: Vampire Hunter. I had low expectations….like when I saw Snakes on a Plane, and all I really wanted was to see some snakes. on a plane. So, that movie was great for what it was…which to recap, was snakes. on a plane. Likewise, I thought, hey, it's not going to be Braveheart, but if I see Abraham Lincoln and he's hunts vampires, it'll be a fine movie…keeping in mind that I like vampire movies quite a bit more than I like movies about either snakes or planes.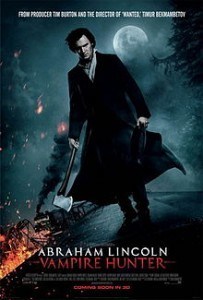 I could not have been more wrong. I loved this movie. Benjamin Walker was an ax-wielding badass. Dominic Cooper was likable. Rufus Sewell was convincing as always. I enjoyed the story, the action, and the ending. Suspending your belief in physics for the duration of the film is a good idea, but if you're already watching a vampire movie, you should be halfway there.

Disclaimer: There's a better than average chance that you won't enjoy this film as much as I did because my movie requirements are: good-looking actors, action or romance or a moving story, and a happy ending.

…and AFTER you've seen the movie, and you're wondering something about the last scene, you should click this link. You're welcome.


var _gaq = _gaq || []; _gaq.push(['_setAccount', 'UA-33373029-1']); _gaq.push(['_trackPageview']);
(function() { var ga = document.createElement('script'); ga.type = 'text/javascript'; ga.async = true; ga.src = ('https:' == document.location.protocol ? 'https://ssl' : 'http://www') + '.google-analytics.com/ga.js'; var s = document.getElementsByTagName('script')[0]; s.parentNode.insertBefore(ga, s); })();
Tags:
Abraham Lincoln
,
Vampire Hunter