disclaimer: I have not yet seen Total Recall starring Arnold.
My thoughts:

1. I was worried near the beginning that the movie was going to be one continuous chase scene, thankfully, it was not.

2. My compliments to the costume designer(s). I think Colin Farrell should just give all his shirts away to needy folks.

3. Also, I'd like to know what he eats because while he was cut, he wasn't crack ho skinny.

4. This movie made me want to go work out because Kate and Jessica were in great shape too. And I always say that it is important to be able to run….you know, in case you're being chased.

5. The ladies had great hair. I'd like to think my hair could look that great all the time if I had a staff of people around to see to it. I wonder if Santa could bring me a team of hair-styling elves for Christmas.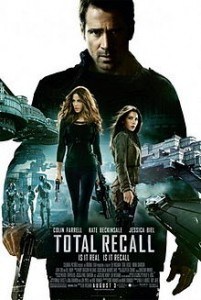 6. I could have used more John Cho. Bet you wish you had a nickel for every time someone says that.

7. Overall, a good action film. I felt like there were some slow points, but I'm not sure what they could have trimmed, so I give it a B.

In other news, I'm soooo ready to see Looper, which doesn't come out until Sept. 28. I feel like I've been watching previews for six months….and I'd boycott it because I'm that annoyed by previews for it, but I want to see it way way too bad. I guess "they" win.