So, I read this blog called Woolen Diversions. Alicia designed a fabulous cowl and asked for testers. I loved the look of this Estonian shell business, so I contacted her for the pattern.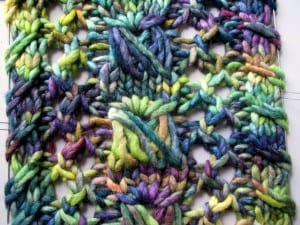 I knit a lot of socks, so the amount of "super chunky" yarn I have in my stash is….almost zero. I had no choice whatsoever but to do a drive by at the Local Yarn Store. I'm not going to lie. I ALMOST bought some orange sock yarn just because I never find orange sock yarn I like in person and the dyer was there at the time and….I was NOT there for sock yarn. Super chunky yarn and size 8 double-pointed needles for a baby hat and that's it. I know, you're shocked.

I looked at yarn that seemed super chunky to me and ended up with some lovely Malabrigo. I did give in and buy a matching button that was 50% off. I'm not made of steel. When I got home I realized the yarn was actually called Chunky, so it could not be "super chunky". One would think I'd have noticed that before I purchased it. I did not. It looked super chunky to this sock knitter and it was blue.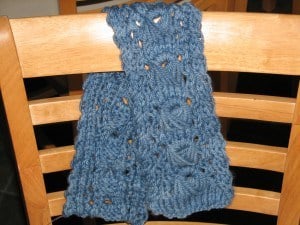 Luckily, it seems to be working out just fine.

Ps. To see what other folks are working on, check out Tami's Amis.
Tags:
Alicia Landi
,
Chunky yarn
,
cowl
,
Estonian shell
,
knit
,
Malabrigo
,
Malabrigo Chunky
,
Woolen Diversions