When it comes to Hunter Hammersen's patterns, I tend to be a bit of a fangirl. I haven't made a Team Hunter T-shirt yet, but don't think I haven't considered it.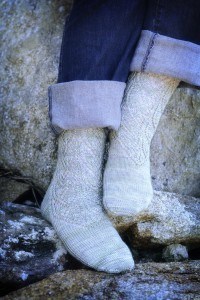 I've been admiring these grayish socks on her blog for months….to the degree that I contacted her to see when the pattern might be out (I may have a problem). There was a moment when she thought I was peaking in her windows to see what she was knitting, but it turns out these lace socks are just more light blue than gray in real life. Nevertheless, I'm sure there are days when she's comforted by the fact that I live in Texas.
Fast forward. She called for testers and check out what's on my needles!


The gray (light blue) lacy socks in Madeline Tosh Merino Light – winter wheat!

Ps. To see what other folks are working on, go check out Tami's Amis and Small Things Yarn Along.
Tags:
hunter hammersen
,
knit socks
,
Lacy socks
,
WIP Wednesday