I can be a bit of a self help nut. (It's one of the reasons I'm such a happy person….well, besides the fact that I have no choice but to be awesome.)

I was recently listening to an audio book (The Charge) and if I'm being honest, the book is a bit on the fluffy side for my taste so far. But, while my mind was wandering around in self-help land, I came up with a new life goal. I will knit 50 pairs of socks for people in my life. Now, this goal isn't about seeking out people to make socks for. It is about documenting people that inspire me to hand knit socks. These people are sock-worthy….possibly in 50 different ways. And it is a life project, not to be confused with a Resolution. I'm not in a hurry.

And because when making goals, I like to stack the odds in my favor, I'm starting with the ten or so pairs I've already made. They are:

1. Mom – No one on Earth loves me like my mom. Sometimes, only your mom can heal a hurt. She's a powerful woman.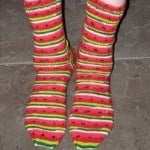 2. Dad – He's one of a kind. His sense of humor is without equal and he's one of the best storytellers on the planet…..which is the reason I still love him despite the fact that he took months to try on the hand knit socks I mailed him. Something about him needing his feet to be clean. I'm not sure why his feet weren't clean for months, but there you have it.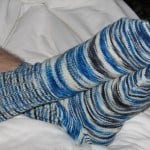 3. The Husband – He puts up with me knitting ALL THE TIME. He's a saint.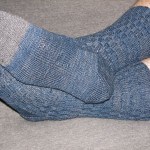 4. Grammy – She's a heck of a lady and I hope she knows how much she means to me. She is my favorite garden consultant.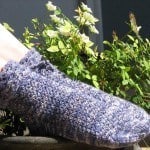 5. Grandma – Clark Gable once bought her a Coke. She's the coolest.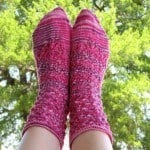 6. Turtle – We've known each other practically since birth. She continues to be incredibly supportive of my knitting and me in general. She's a fantastic person to have in your corner.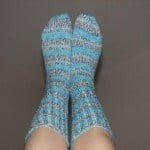 7. Jbird – Her love of math and her willingness to visit yarn shops with me inspired entrelac socks….doesn't hurt that she puts up with my little brother.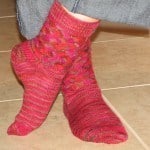 8. Rebecca – She stalked the blog when no one else was reading it. I'm forever grateful.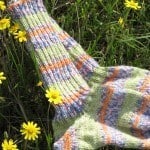 9. me – we've already discussed that I'm awesome…plus my feet are the easiest for me to fit.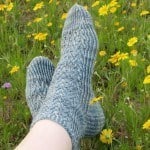 On the needles:

10. my hairstylist/therapist – I'm in my mid-thirties and even though I'm going gray, I've never felt better about my hair. She's a magician.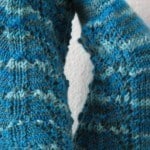 11. Bonita – She loaned me Walking Dead DVD's and taught me that it is ok if friends arrive for a party and the soup is still cooking. That's why one needs true friends.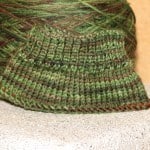 …so, we'll see how this goes, shall we?

Ps. Here's a link to ravelry if any of these patterns interest you.
Tags:
100 socks
,
knit socks
,
yarn