Category:
knitting & crocheting
The first I wish Daryl was here. sock is complete.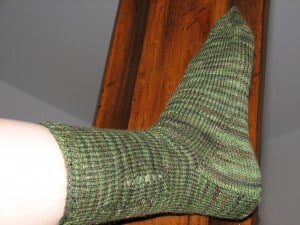 Pattern: Night of the Living Sock by Cambria Washington
Yarn: Dizzylettuce Claire de Lune – Lichen
The stripee socks were a little too small for Rebecca (I should have followed my knitterly instincts), so I started ripping toes to add a wee bit of length. one done. one to go.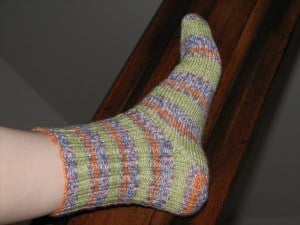 …and then this lovely came in the mail (courtesy of Rebecca)


Space Cadet: Oriana 8-ply: Drizzle

It feels amazing….wool so soft it doesn't feel real. Nothing inspires me to rework the toes of socks like fresh yarn! Well played, Rebecca!
Ps. Check out what others have finished at Tami's Amis and Wisdom begins in Wonder and Natural Suburbia
Tags:
Finished Object Friday
,
Night of the Living Socks
,
Oriana yarn
,
Space Cadet yarn