I felt like a genius for coming up with this pattern (Vanessa antiopa Socks) and colorway pairing and getting them to play nice… until I reached the heel. After turning the heel, yarn started pooling in a Kermit-like manner on top of the sock (a lot of green). (note: I gave up on the dpn's with this pattern and switched to circular needles – there was some laddering and I finally decided it was not worth it.)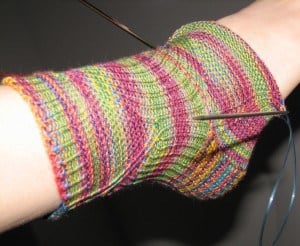 Once I got down to 66 stitches, the color pooling started to behave itself a bit better and things were once again chugging along…..until I realized that I did not actually read the pattern and was supposed to have continued row ONE of the chart all the way through the gusset decreases. Well, crap.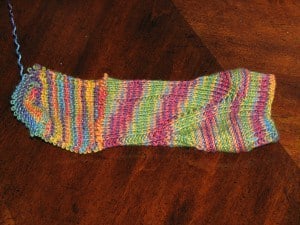 I must frog. This makes me think of Kermit again.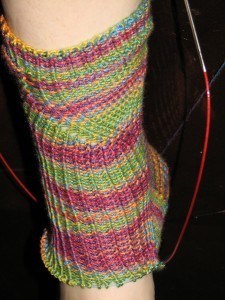 Ok. Row one 'til I finish the decreases. check. Now, onto the foot AND the rest of the chart. In spite of the false starts, I still think these socks are a quick fun knit.

Mine raveled here

To see what others are working on, check out:
Tami's Amis
Small Things (I finished reading Outlander – I rather enjoyed it. At some point, I'll dive into the sequel.)
Frontier Dreams
Tags:
hunter hammersen
,
Keep Calm - Craft On
,
Lorna's Laces
,
Vanessa antiopa Socks
,
WIP Wednesday
,
Yarn Along