Bonita is a peach. No, not like a Georgia peach, more like a steel peach you'd want around if the zombie apocalypse happened because she'd be willing to let you wash all the cups while she sat on a roof with a shotgun. Now, my aversion to skin cancer runs deep (my genes are stacked against me), so I really value that in a zombie apocalypse preparedness team member. I digress. Bonita got me hooked on the Walking Dead, so I decided she needed some Night of the Living Socks. (we actually discussed who was going to wash the cups in the event of a zombie outbreak and I wrote our plan in my organizer. That's how we roll.)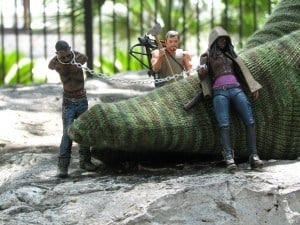 Prior to making these socks, I talked to Bonita about how many runs I should put in these socks. I said "We don't want to have too many runs because that could compromise the structural integrity of the socks." She said something to the effect of there being few things as important to her as sock integrity.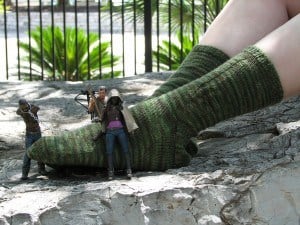 In other news, did you know lichens sometimes grow in gravestones? and once upon a time, Bonita had a job carving gravestones. Winning!



To see what other folks have finished, check out Tami's Amis, Wisdom begins in Wonder, and Natural Suburbia.