It's come to my attention that I never blogged the pretty pink socks I knit for my SIL.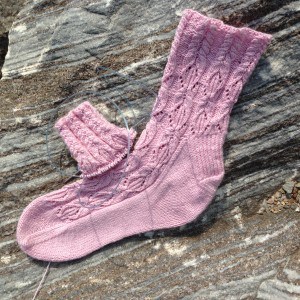 This pattern is lovely and delicate and immediately brought my pink-loving sister-in-law to mind. I made the 72sts size and was really pleased with them. I grafted the toes of sock 2 in June of 2014 and was able to take some glamour shots at Disneyland.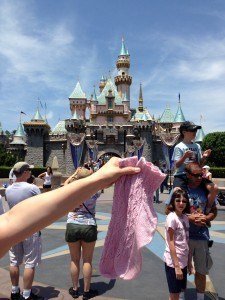 Pattern: Bea Socks, formerly known as Glass Slippers by Christina Wilkins
Yarn: Cascade Yarns Heritage Silk
Needles: magic looped with addi turbos…the size would be a handy thing to know, wouldn't it…2.25mm maybe?
Mods: There's a point where there's 2 purls on one side of the top of the foot and one purl on the other side of the top of the foot. I moved the heel over a stitch on the second sock so that the two purls and one purl sides were mirrored from the first sock. I analyzed the chart and totally understood why this asymmetry had to happen, but the mirroring helped me sleep at night.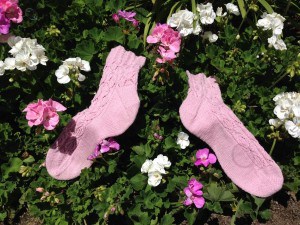 Tags:
Addi Turbos
,
Cascade Heritage Silk
,
Cascade Yarn
,
handknit
,
handknit socks
,
knit
,
knit socks
,
knitting
,
sock
,
sock yarn
,
socks