Comments Off

on Hockey n Heels (or sneakers)

Category:
hockey
The Texas Stars had ladies night and Lisa was kind enough to join me on this little adventure. We both wore our tennis shoes and were not really sporting the Sex and the City look.
When we first got there, we had to register with State Farm and Lisa didn't know her agent's name, so that was recorded as "I don't know!!!!!!" Yikes, we didn't know there was going to be a quiz!
We were trying to find where to go for dinner and were going to look at merchandise on the way until we were warned that it was not time for that and there would be certain shopping time later (5 more demerits).
We ate dinner at the club level. Here is the view: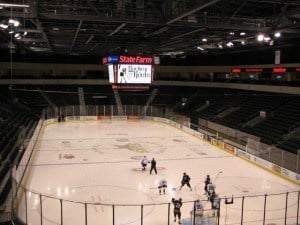 We got to tour the locker room. Krahn gave us a talk about his pads and how long it takes him to put them on. According to the other members of the team, he's a lot faster than other goalies who are lazy and slow and it takes him about 7 mins. Rallo also spoke for a little bit.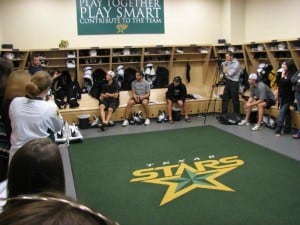 Here's the stick room: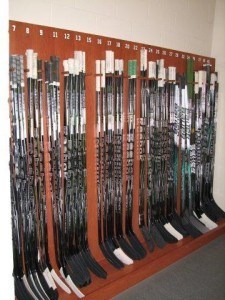 Next, we moved to the Zamboni station where we learned it takes them about a week to put down the ice for the season. When there is a concert, they put composite planks down over the ice so, it is still cold.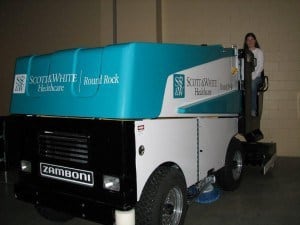 On to the coaches' station where we'd learn about rules and plays. We couldn't always hear what he was saying, but we got to sit on the team benches while he spoke; that was cool. Also, because we were near the beginning of the line, we got to have players escort us over the ice to the opposing team's bench and back. It was cool to be on the ice which is more slick than I recalled. I overheard a lady saying afterwards what nice eyes her escort had. I was fascinated that she'd noticed since I'd been mainly occupied with not landing on my arse.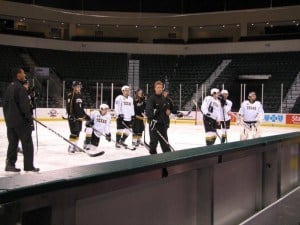 We moved on to my favorite station, the autograph station. I already had my white cap ready to be signed, so I went down the table and got all the players to sign it (every player at the autograph table looked like a model). Then we went to the photo booth to get our pictures taken with Gazdic and Wathier who are conveniently very broad, good-looking and the same height. It was at this point that we realized that where each player was assigned was strategic. The "leaders" in the locker rooms, the pretty ones were signing autographs, the fan favorites were taking pictures and everyone else (mostly new guys) on the ice. To be fair, I think this was the point Lisa figured this out. I solidified the idea when I was reviewing my pictures after the fact.
We tried to go to the Miller Lite lounge a little early when we couldn't see our leader, but were promptly stopped by Roxie (our fearless leader that it would have been easier to follow had she been taller). So, I went and bought a T-shirt for TH and got all the players to sign that while we waited for our turn. At this point, someone let us know our group was "leaving us" and we needed to catch up! Are you kidding me? They were within spitting distance.

Then we went to the press box before it was time to leave. They were playing the previous Sun. night's kiss cam in the press box, so Lisa was able to see the replay. I was pleased to see that Charles and I didn't look half bad. Ten years of practice, I guess.

Overall, a great evening and it was fun for Lisa and I to be the troublemakers, for once.