A while back, I recommended a baby blanket pattern to a friend that was just starting to cable. It turned out not to be that easy for a first cabling project and she had a little bit of a hot mess on her hands after the second cross. Unsure which row she was on, she was getting ready to throw up her hands. Since the pattern was my idea, I told her I'd take a look, get it straightened out, give it back to her, and tell her which row was next…as long as she wasn't in a big hurry. She wasn't.

Fast forward a couple of months. I'm mentally in between projects and I wanted something soothing to work on while I watched Glee. Since, I've knit this project before, unknitting it and figuring out what was going on was just what The Doctor ordered.
Before: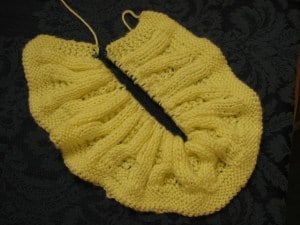 After: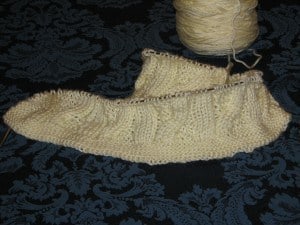 They don't look that much different, but basically, I just unknit a couple of rows and then read the knitting to see which row was next. I was going to knit a few rows just to help her get into the flow of the blanket, but I remembered that I'm a much more uptight knitter (I know. You're shocked.) than she is and the last thing she needs is 3 or 4 TIGHT rows in the middle of the baby blanket, plus… it was getting late.

Since, it is finished object Friday, here's my finished blanket in a blast from the past.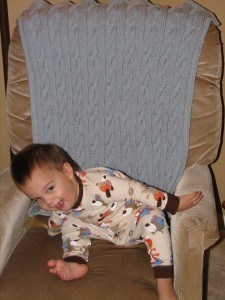 Ps. Check out what other folks have finished at Tami's Amis and Fiber Arts Friday!
Tags:
baby blanket
,
cables
,
Debbie Bliss
,
knit