If there's one thing that makes me happier than my FIRST finished sweater, it's pictures of me wearing said sweater in BLUEBONNETS! (especially since this sweater had a rough start)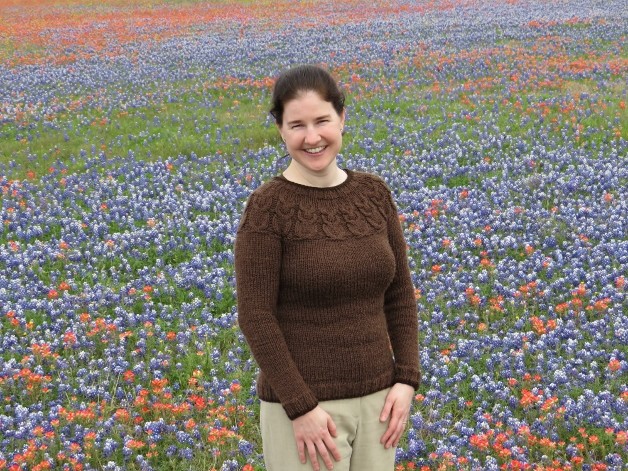 Texas cooled off nicely one last time and I feel like it was just for me. (No, I'm not self absorbed, I'm not sure what you're talking about.)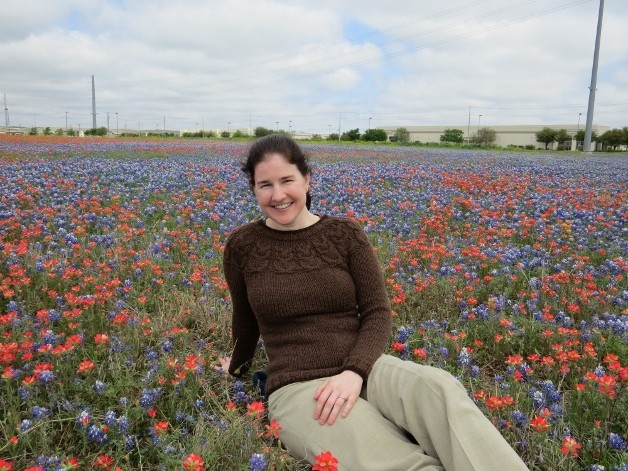 Meghan graciously agreed to play photographer. What I love about Meghan is that when I say, "I want a picture of me doing a handstand", she just nods and asks, "which way are you going to face?"
Handstands were more difficult than I remembered. I blame the uneven ground (but I started doing pushups more regularly after this, so you can make your own assumptions). Luckily, Meghan has AMAZING timing.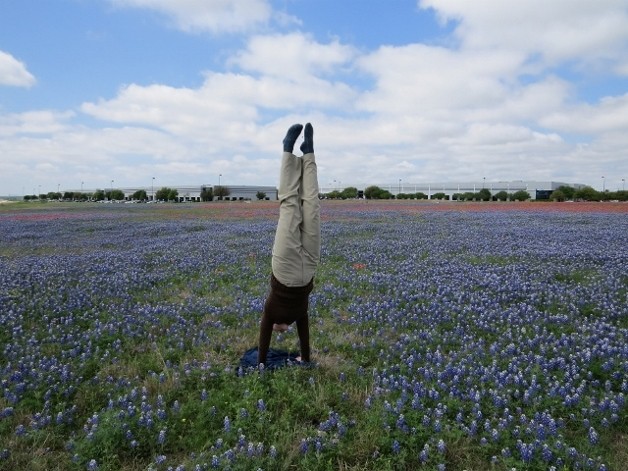 And since the Delias socks were present, we couldn't leave them out!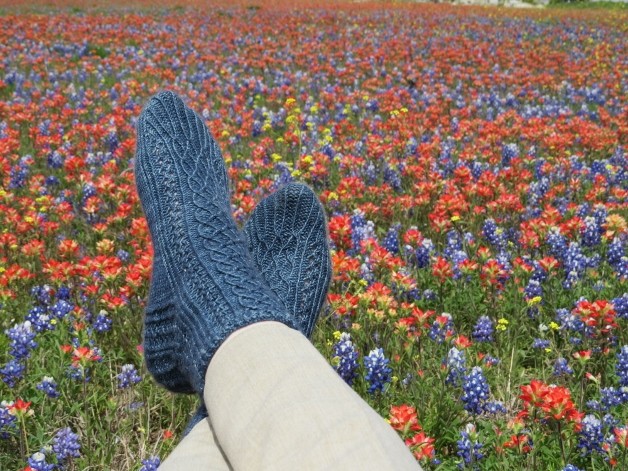 Back to our regularly scheduled sweater report….
Pattern: Owls by Kate Davies
Yarn: Cascade Yarns 128 Superwash
Colorways: Mocha Heather, Bitter Chocolate (edging)

Notes:
Seriously, try this sweater on as you go. You'll be happier.

If you see a picture of the owls sweater that looks like it has increases or something near the boobs, that was an earlier version of the pattern.

My dark chocolate edging was inspired by Lladybird's owl sweater.

If you graft toes of socks, that skill will come in handy for the underarms.

If you put your hands under your arms like you would in the chicken dance, that's where you should stop knitting the body and when you should stop knitting the sleeves. (read this tip in the Owls group on ravelry)

I tried the Tubular Cast On, but I just didn't love the way it looked, so I went back to my old friend, the German Twisted Cast On.

Make sure to start your owls where you want them so they are symmetrical or centered as you prefer. I used the crap out of stitch markers while knitting this puppy.

Mods:
Cast On for two sizes larger than my size.

Back decreases as written and continued decreasing until I couldn't any more.

Didn't do any back increases (did them all under the arms so they were less noticeable)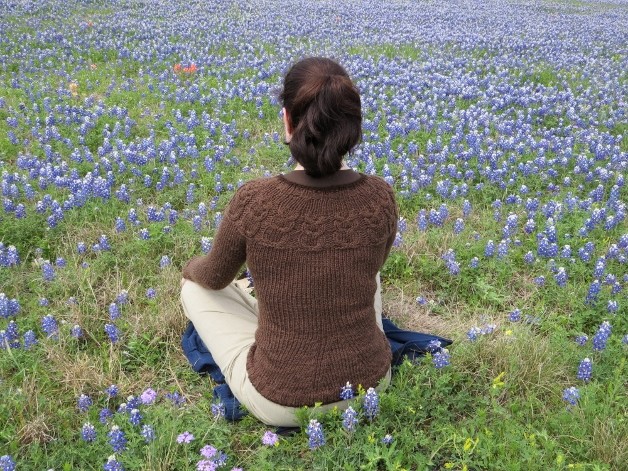 (Meghan is also the kind of friend that will loan you her jacket so you don't have to go back to work with bluebonnet stains on your pants.)
Sleeves:
Cast On for two sizes larger than my size with 5.5mm needle (German twisted co). Did the ribbing with 6.0mm and then switched to 5.5mm for the arms. Did 8 inches even (including ribbing) and THEN started the increases as written until I got the number of sts called for in my size and then just knit even to my underarm.

Put 6 sts aside for underarm (4 just did not seem like enough to me)

Regrets:
I wish I'd done a more loose cast on (like over two needles even though that seemed too loose at the time). For me, getting the cast on even close to right was the hardest part of this sweater.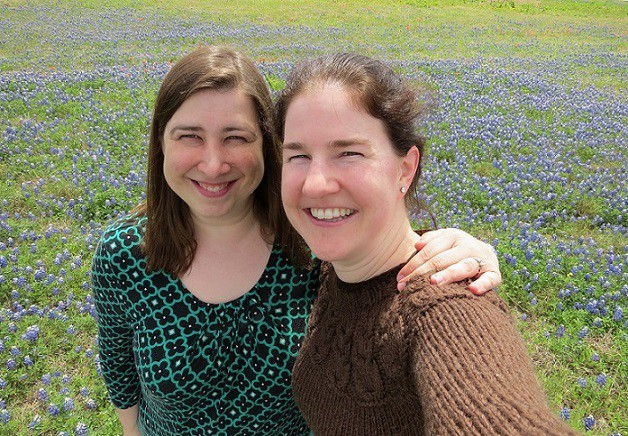 * Meghan and I tiptoed through the bluebonnets, being careful not to crush the wee beasties. Thanks for being my photographer, Meghan! The funny thing about this pic was her twin toddlers' reaction, "Two Mamas!". I guess when you're a twin you think there's two of everyone else too.
Ps. Check out what others have finished at:
Tami's Amis
Tags:
Cascade Yarns
,
Creative Friday
,
delias eucharis socks
,
Fiber Arts Friday
,
Finished Object Friday
,
Flying Atlas
,
hunter hammersen
,
kate davies
,
knitting
,
owls sweater
,
Plucky Knitter
,
Plucky Knitter Primo Fingering
,
Primo Fingering