Category:
knitting & crocheting
So. I may have read one too many blogs on how you don't want to jack up a nice knitting project with crappy finishing. I ripped the collar off this pretty cream sweater. Then I re-picked up the stitches and started again. Second time's the charm. I'm MUCH happier. I only paused before ripping because I was worried it would look worse when I picked them up a second time. My fears were in vain.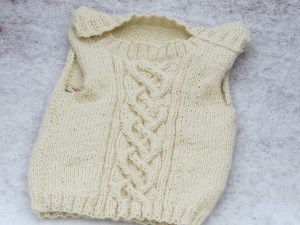 After I picked up the stitches for the front of the collar, I tried to match the ribbing to the cables by varying the number of stitches in the ribbing as the pattern instructed, but that was a hot mess. I went back to K2P2.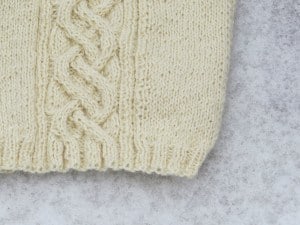 Soon, this puppy will have sleeves and then off it goes to Turtle's house for Baby 2. He's going to loan it to his big brother first. That's right, it's a hand-me-up.
To see what others are working on, check out:
Tami's Amis
Small Things (I finished The Razorland Trilogy and I REALLY enjoyed it. If you like dystopian fiction, I expect you'd like it.)
Frontier Dreams
Tags:
Get Ziggy
,
Razorland Trilogy
,
WIP Wednesday