The Iditarod ceremonial start was Saturday at 1pm (Texas time) and I was on a wine tour of the Texas Hill Country.

We hit Becker – nice selection of local products.

had lunch at Inwood Estates Winery & Bistro (We were going to sit outside, but it was too windy. A huge umbrella blew up and almost killed me. True story.)

checked out Torre Di Pietra Vineyards – which I didn't love (There was a shop cat and I'm ALLERGIC.)

swung by Grape Creek – classy joint

and finished up at Fiesta Winery – yummy sweet wines.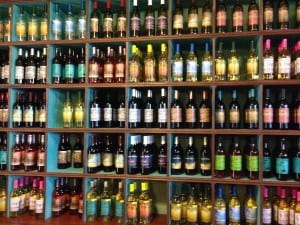 So, I didn't get very far in the Iknitarod Saturday. (my goal is to knit the owls sweater – my first adult sweater – by the time the last musher reaches the finish line in Nome) I did attempt a German twisted cast on after my gauge swatch and when the tail wasn't long enough, I decided to try again Sunday.

Sunday –
cast on 2. German twisted – wasn't crazy about how it looked.
cast on 3. German twisted – started knitting the rib and didn't love how that looked
cast on 4. tubular – have 102 sts. need 108. merciful heavens!
cast on 5. tubular – finally have 108 stitches. time to hit the hay.
Monday –
I worked on the ribbing. The darker edge looks amazing! I tried it on. FRACK! It's too small. I can get it on, but even having never knit a sweater before, I know the stitches are not supposed to be all stretched out like that. This is the part where I learn what is meant by an inch or 2 of ease.
On the upside, I do not love the waterfall look of the Tubular cast on. German Twisted it is.

Tuesday –
I tried it on again in case I was just fatter Monday or something. No such luck. It's too small. I took a picture and ripped it out.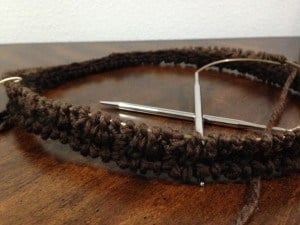 Then, I took a break because well, I needed a break. My first sweater is kicking my arse. (calling it my 24 hour break)…probably a little early to take my 24, but there you have it.

Wednesday –
cast on 6. German Twisted – tail too short
cast on 7. German Twisted – (going up 2 sweater sizes and down one needle size) BINGO! (I hope)
The trail has been ROUGH for those running the Iditarod so far. I am consoling myself with the fact that at least I don't have any actual bruises to show for my rough Iknitarod start.
To see what others are working on, check out:
Tami's Amis
Small Things (I just started reading Wheat Belly – it is actually about modern/hybridized wheat and gluten vs. ancient wheat and has been interesting so far.)
Frontier Dreams
Tags:
first sweater
,
Iditarod
,
Iknitarod
,
kate davies
,
owls sweater
,
WIP Wednesday