Turns out at least one person reads this blog….and they commented as to how I haven't posted a full on knitting movie review in a while. Since I take my fans very seriously, I spent last weekend watching movies. See if you can spot the theme.
CHIPS
Ya'll, Dax Shepard wrote, directed and starred in this movie. He's officially a triple threat. Michael Pena was talking trash about Dax needing his name on everything so Dax stunt drove for the car chase scene towards the beginning of the film and the credits now read Stunt Driver for Michael Pena: Dax Shepard. This movie is funny and the story and action are solid enough to watch it over and over again. I don't want to blaspheme, but it reminds me of Bad Boys.
That said, now I need to address a serious issue I had with this movie…the facial hair (SPOILERS AHEAD).
The two stereotypically hot actors (Josh Duhamel and Adam Brody) had gross mustaches in this movie. Adam Brody is one of my biggest celebrity crushes and all I could think was, "just no". I'm sure the filmmakers were doing some kind of retro mustache tribute, but…..not everyone can pull off a mustache like Tom Selleck. Veto. I also wonder if Dax Shephard was looking to be the hottest guy on set? In which case, well played, Dax.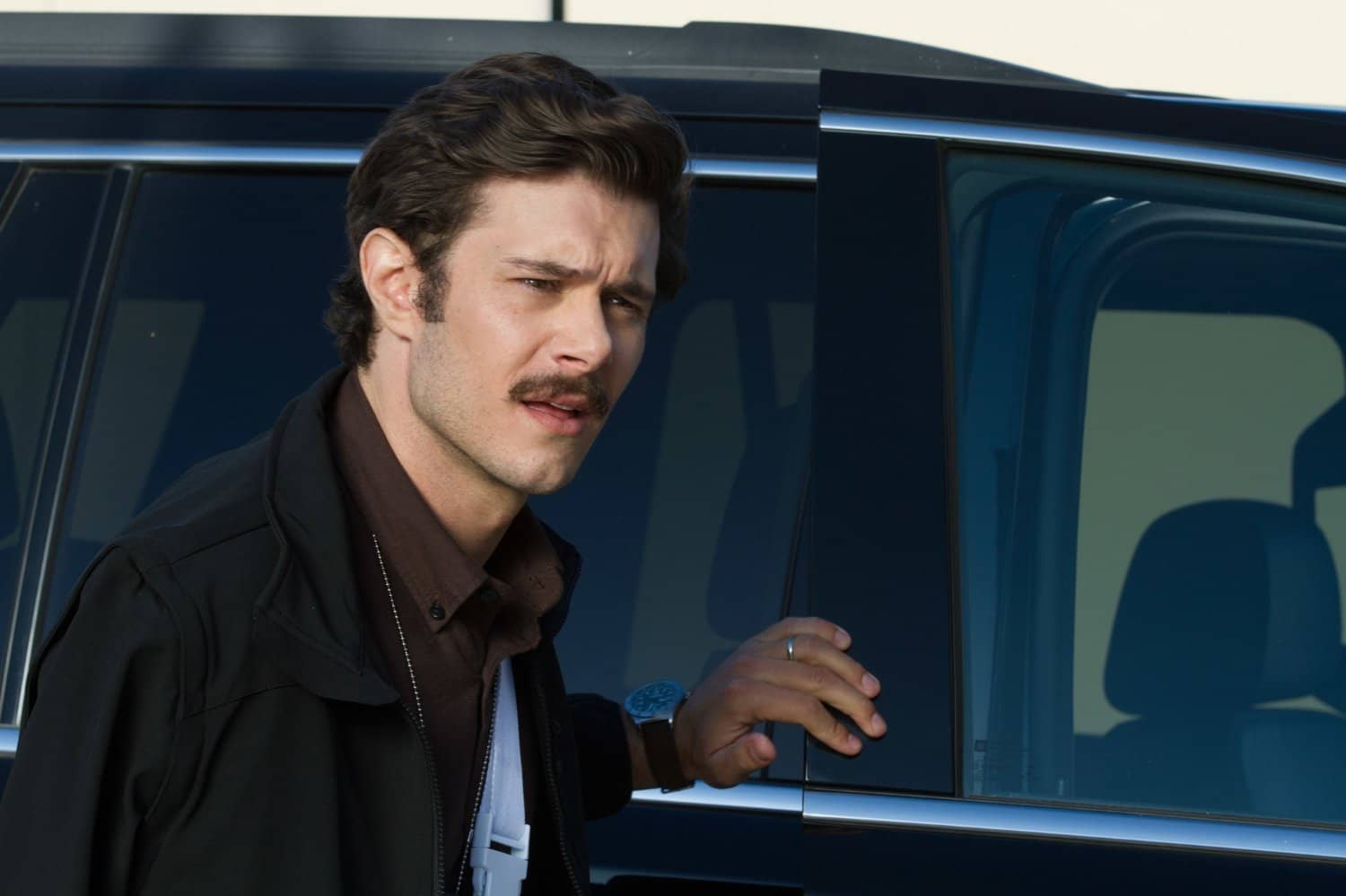 However, he overlooked the drugged out son sporting an "i forgot to shave for a couple days" beard which is pretty much my ideal facial hair. I blame Indiana Jones (and 17 years with The Husband who likes to sport the short beard). I don't know who was in charge of making Justin Chatwin (you may recall him as Jimmy from Shameless) look like a druggie, but they could have committed a little more. His mussed hair and fresh beard were perfection, so he looked like maybe he'd just been up super late at a knitting slumber party the night before.
Man upI wasn't sure I could buy Simon Pegg as the leading man in a rom. com. and he totally pulled it off. Must be the beard. This movie was cute, funny, and all around enjoyable. I've no idea why I didn't watch it sooner.
Bonus: Lake Bell is sporting a nice cream colored knit hat with a pom pom. What do we think? Seed Stitch? I dig it!



Beauty and the BeastMy expectations were low. This film exceeded them. If you enjoyed the animated version, I think you'll like this movie…unless you have to watch it more than once. In which case, I'm sorry.
Don't kill me, but I would have preferred the Beast actor to have darker hair and 2 days of beard growth. The transition from Beast to clean shaven and blonde was too drastic for me. Anyone else on that boat?Everybody Loves SomebodyI was all set to watch a nice run of the mill rom. com. when we realized this movie needed subtitles. But, not all the time. It was half in Spanish and half in English, so I ended up having to read all the subtitles because by the time I realized it was Spanish, I'd missed it. Overall, the movie was cute, and not half bad. I have to comment that Ben O'Toole is a hell of an actor. (SPOILER ALERT) To the degree that I actually wondered at one point if his wife had died in real life. (END SPOILER)
If you're bilingual, I think you'd enjoy this film quite a bit. If the filmmakers want to manage expectations, they need to dub it in English or go back to the original title, Todos queremos a alguien.
The Spirit of ChristmasA friend of mine has recently discovered the guilty pleasure that is the sappy holiday romances. She summarizes them this way, "There's a girl and she's some kind of high powered professional that's not into Christmas and the guy is a sweet hometown boy or a Christmas-loving widower and she has to sell off his factory/inn/home only he helps her realize the true meaning of Christmas and they live happily ever after. Sometimes he's returning from war or maybe a cute kid is looking for a new mom/dad and if you're really lucky, there's a puppy."
Jen Lilley sported a red cabled sweater, a cozy plain gray cardigan, a purpley blue cabled hat and a wine colored cowl-necked sweater during this film. I only noticed some of these. Probably because I'm knitting a cable pattern myself.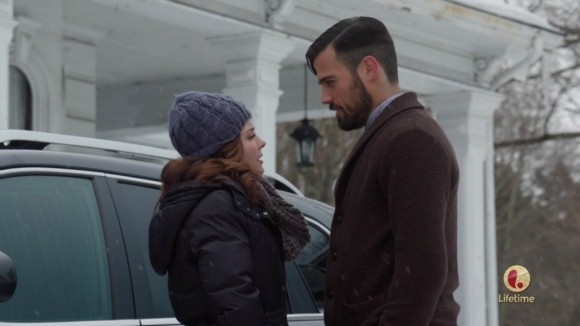 No one is winning an Academy award for these films, but if you're in the mood for Christmas romance, The Christmas Spirit will deliver and of course, it doesn't hurt that our leading man (Thomas Beaudoin) is sporting a great beard.
Tags:
Adam Brody
,
Beauty and the Beast
,
Ben O'Toole
,
Chips
,
Dax Shepard
,
Emma Watson
,
Everybody Loves Somebody
,
Jen Lilley
,
Justin Chatwin
,
Karla Souza
,
knitting movie review
,
Lake Bell
,
Man Up
,
Michael Pena
,
Simon Pegg
,
The Spirit of Christmas
,
Thomas Beaudoin