I generally knit brightly colored socks. Brightly colored yarn just calls my name. But, every once in a while, I'm wearing an outfit that calls for gray or black socks, so I needed to knit some. I mentioned this to Hunter Hammersen one day via her blog and she voted gray. I also mentioned my plan to Bonita (the soon to be owner of the Zombie socks) and she said, "I think I recall you knitting some black socks at some point and hating it enough that even I was scarred….don't you think that means something?"
It does. If Bonita and Hunter both vote gray, then gray socks I shall have!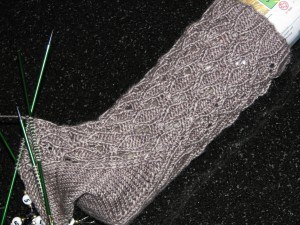 Pattern: Linaria Bipartita Socks by Hunter Hammersen
Yarn: The Plucky Knitter Primo Fingering
Colorway: Elegant Elephant
LAST CALL!
If you have yet to buy Hunter's most recent book, there's still a discount and free pattern special if you go buy it right this second! What are you waiting for?!? There's a great group of folks doing a Knit-a-Long on ravelry soon and you don't want to miss out on all the fun!

Ps. To see what other folks are working on, go check out Tami's Amis and Frontier Dreams and Small Things.
Tags:
Elegant Elephant
,
hunter hammersen
,
Keep Calm - Craft On
,
Linaria Bipartita Socks
,
Plucky Knitter Primo Fingering
,
The Plucky Knitter
,
WIP Wednesday
,
Yarn Along