Let's be honest, 99 times out of 100, I'm a project knitter. I knit things that I love to knit for people I love to knit for. And if I start a project and I hate it, I frog the thing and the yarn becomes something else. Once in a great while, a project comes along that speaks to me. The feel of the yarn, the look of the pattern – it all just comes together in such a way that is magical. The apple socks were such a project.
The Dragon's Breath socks are not.
I've knit the pattern before (with more cooperative yarn) for feet that are handier for fitting (mine) and that project was quite a bit happier.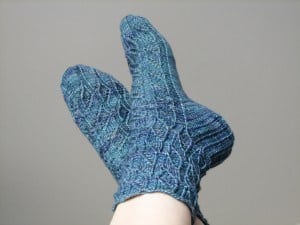 Normally, I would frog and move on. But, three things have come into play.
1. These socks did not fit the friend they're intended for and her response was, "I don't mind if they're a little slouchy. I don't want you to have to rip back." She's a sweetie.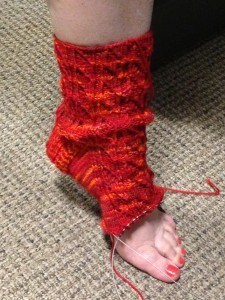 2. I do not hand knit socks so they can NOT fit. (sound of me ripping back to the leg)
3. She brought me Adorn sock yarn from her stash that came from Vogue Knitting in New York because I mentioned I'd like to try Adorn someday. and when I asked if she'd prefer to save it for Christmas (because they're not giving this yarn away for free, ya'll), she said "No, Thanks for being my friend."
I'm knitting these socks for her. They're going to be beautiful. and they're damn well going to fit.
socks raveled here
To see what others are working on, check out:
Tami's Amis
Small Things
Frontier Dreams