I thought the second appley sock was going to be boring after that first hiccup, but at some point, I lost track of where I was in the chart and all of a sudden, I had an extra row of zigs where there should have been zags. Not to worry, I ripped a couple of rows and all was right with the world again.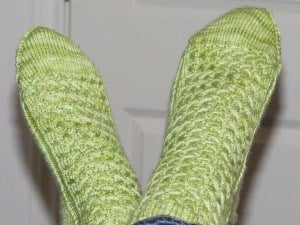 I must confess that I love these little socks. I don't know if it was the yummy yarn or the smooth pattern or that people far and wide have been admiring them or fond thoughts of the person they're going to live with, but even with the rough patches, I really enjoyed knitting these lovelies. I felt like a process knitter for once in my life.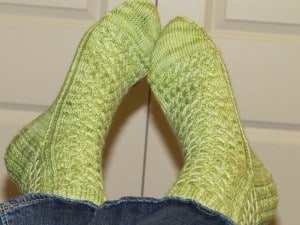 Pattern: Lycaena virgaureae Sock by Hunter Hammersen
Yarn: Schaefer Yarn Company Heather (love it. This stuff is right up there with Handmaiden Casbah.)
Colorway: Apple Green
Needles: 2.5mm for the leg, 2.25mm for the foot.
Pair 12 in my 100 sock journey.
Ps. Check out what others have finished at:
Tami's Amis
Tags:
Apple Green yarn
,
FO Friday
,
hunter hammersen
,
Lycaena virgaureae
,
Schaefer Yarn Company