Comments Off

on Dragons Breathing Down my Neck.

Category:
knitting & crocheting
As you may recall, these puppies gave me a bit of a problem.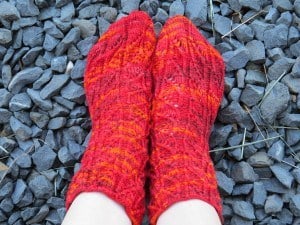 But, I got them straightened out and they ended up looking nice AND fitting L after just a bit of work. Behold, "socks on fire"!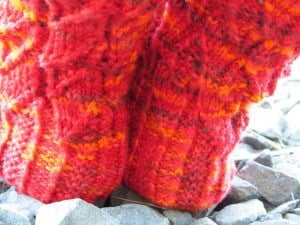 Pattern: Polyommatus argiolus Sock by Hunter Hammersen

Size: Large
Decreased foot by 6 stiches on bottom of foot. Per Hunter's advice, decreased for toes on top every other row first until top and bottom of foot lined up for toe decreases.

Needles: 2.0 mm bamboo (one casualty)

Yarn: Blue Ridge Yarns Jubilee – Dragon's Breath (I don't love the way this yarn pools. It took a bit of doing to get an effect I was pleased with. I am not likely to use it again even though it is TEMPTING given all the compliments the socks in progress got.)
Tags:
Blue Ridge Yarns Jubilee
,
Dragon's Breath
,
hunter hammersen
,
Polyommatus argiolus Socks