Knitting and Crochet Blog Week Day 4 hosted by Eskimimi: House of Flying Monkey: Color Review
What colors do I think I use:
Bright vivid colors like jewel tones. I rarely use neutrals or pastels, even for baby things….so, yea, I like the bright colors of Oz.
The colors in the stash: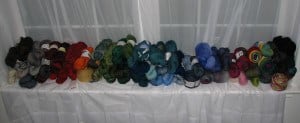 Conclusion: I like them all!….but, this does have me noting that I'm not a fan of heather or tweed yarn. I wonder what that says about my chosen knitting house (flying monkey)? Do manatees prefer tweeds? Do peacocks like eyelash yarn?
Ps. If you'd like to see what all the other Knitting and Crochet Bloggy-type folks are saying, type "4KCBWDAY4" into your favorite search engine.
Tags:
4KCBWDAY4
,
knitting and crochet blog week
,
yarn colors