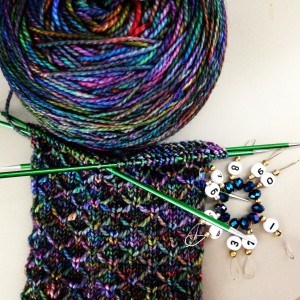 My friend, Bonnie, recommended the Leyburn socks for variegated yarn. She's knit these twice and been perfectly happy with them. As I'm typing this, I went to look at her projects and have just this minute realized that she knit both pairs top down rather than toe up as the pattern calls for. I bet she even mentioned that to me at some point…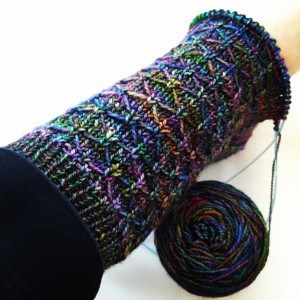 Anywho, I knit a toe up Leyburn and it was gorgeous! but far too tight across the top of my foot. I took a deep breath and ripped out the entire sock. I located the Crystalline pattern which had the added benefit of a nice little cable up each side. and waited a year.
I then knit a Crystalline sock and it too was tight in the same elfing spot. I tossed that aside and started a third sock and made sure the heel flap was going to be tall enough to feel comfortable….by actually reading the pattern which called for a 34 row heel flap instead of the 30 row heel flap I'd done. I knit a 36 row heel flap just for good measure and was pleased with the fit. Back to sock 2. Made that flap 36 rows and finished the pair. All's well that ends well. Except, the thing about variegated yarn is that it's variegated. What I ended up with is a sock that I LOVE and her slightly less attractive step sister. Ladies and gentlemen, there is a reason I knit so many semi-solid socks.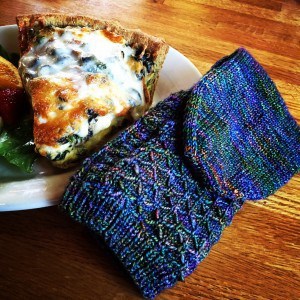 Pattern: Crystalline Socks by Cailyn Meyer
Mods: Crossed cables on rows 1 and 5 so I didn't have to track an 8 row pattern and a 12 row chart.
All left crosses on one sock and all right crosses on the other.
I had 20 sts remaining after the heel turn on both socks, so I did one extra decrease after knitting across the heel the last time.
Toe Decreases: (Repeat round 1 & 2) 6 times and then decrease every row.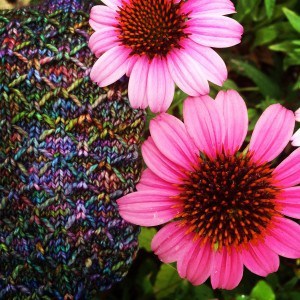 Needles: 2.5mm Signature Needle Arts for the Legs
2.25mm Signature Needle Arts for the Heels-Toes

Yarn: MadelineTosh Tosh Sock

Colorway: Spectrum
Tags:
handknit
,
handknit socks
,
knit
,
knit socks
,
knitting
,
Madeline Tosh
,
sock
,
sock knitting
,
sock yarn
,
socks