First, I really enjoy dropping stitches. It's the same feeling I used to get when a teacher would suddenly announce that a test was open-book. Legal cheating?!? wheeee!!! So, I'm on my just dropped some stitches high, and I'm knitting along and the pattern says to knit the heel flap. About halfway through the heel flap, I realize that the stockinette fabric is thin. Too thin for a heel – these will be worn out in no time and since they're a gift, that simply will not do.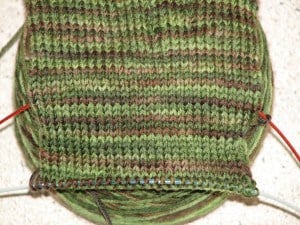 Now, I'm, at the very least, an intermediate sock knitter, so I get a little smug and rip back the heel flap, I read a little bit of the The Knitter's Book of Socks and begin again with a lovely slip stitch flap. I finish that up, admire my handy work and then go back to the pattern to see what she has planned next…

…only to realize that the pattern ACTUALLY says that I should have done a slip stitch heel to begin with. Nice. At this point, I realize that I have two pattern reading modes:
– Test and complex knitting mode, where I read every comma, every word, every stitch.
– and evidently pattern scan mode where I assume I know what it says. In case you're wondering, this is not the most efficient way to knit.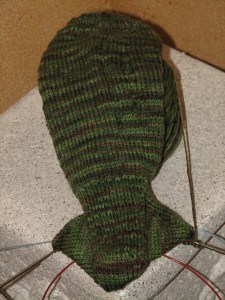 Mine raveled here

Ps. To see what other folks are working on, go check out Tami's Amis and Small Things Yarn Along (I'm listening to/reading "The Charge: Activating the 10 Human Drives That Make You Feel Alive" audio book – so far, I give it a 6.5/10).
Tags:
Claire de Lune
,
Dizzy Lettuce
,
knit
,
lichen
,
Night of the Living Socks
,
sock yarn
,
Walking Dead
,
WIP Wednesday