Category:
Leaf
One fine day, I was driving down the road near my home admiring how butterflies were flying up my windshield and over my Nissan Leaf without splatting on the glass. I thought how lovely having an aerodynamic car was. Through my haze of bliss, I opened my garage, pulled in, and got out to plug in my car. There on the front bumper near the little charging door was a flattened butterfly. Well, crap! There goes my joy! oh well. I guess not all butterflies get to live happily ever after. So, I very carefully pulled it off by the very edge of its wings and went outside to drop it on the ground so it could maybe feed a bird or something…circle of life and all that.

As I released it, would you believe that it opened its wings and FLEW OFF! Now, I'm not talking about flew a few feet and then collapsed and died. It flew at least 50 feet and then landed in a field of wildflowers. At this point, all the facts about butterflies not being able to fly if you touch their wings flashed through my head. I squashed that logic right down and focused on how little I had touched it and I chose to believe that the butterfly lived in a land of unicorns and rainbows…you know, for like a day, cause butterflies don't live that long.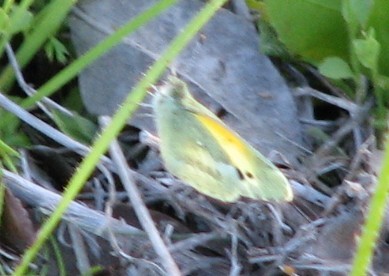 But still, it was pretty freaking cool to have a butterfly that had been dead fly off into the flowers! WINNING!

Ps. In case you were wondering, it was moving much too fast to be a zombie butterfly. It was well and truly alive….I think. Happy Friday the Thirteenth!

Ps. I've logged over 12,000 miles on my Leaf!
Tags:
butterfly
,
Friday the 13th
,
Nissan Leaf
,
zombies