Category:
knitting & crocheting
The Husband and I celebrated twelve years of wedded bliss in August. He bought me yarn. That is to say that I used the Pay Pal account to buy myself some delicious Plucky Knitter yarn during a couple of her sales and mentioned it in passing to The Husband. I could not believe how fast their stuff sells out!…until it arrived in the mail and then understanding dawned. Gorgeous!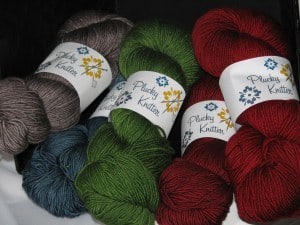 From left, may I introduce: Elegant Elephant, Flying Atlas, Oz, and Barn Door Primo Fingering along with Peep Toes Primo Sport ( Primo = merino, cashmere, nylon). Silk and linen are the traditional materials for 12 years. Close enough!
The Husband has a hard time keeping up with which yarn and pattern shops I purchase from, so I get questions like "Who is Violently Dom?". That's what Hunter Hammersen's patterns and books show up as and it stumps him every time. This time, the question was, "Who is Plucky Knitter and why do they have all my money?" I just grinned and said, "That's the yarn you bought me for our anniversary." Ain't love grand?!
Ps. Plucky Knitter has lovely customer service too; the first package arrived with a note letting me know that the Peep Toes would be following shortly.
Tags:
Anniversary
,
Barn Door
,
Elegant Elephant
,
Flying Atlas
,
Oz
,
Peep Toes
,
Plucky Knitter
,
Primo Fingering
,
Primo Sport