After the second sock gave me trouble, I did a bit of marathon knitting and was able to finish my gray socks for the Knit-A-Long after all. I got a kick out of the fact that I watched Mirror Mirror while knitting a mirrored sock; it was a better little Snow White flick than I was expecting.
I also watched Legend of the Guardians which was quite good. Finished grafting the toes during Leap Year (great romantic comedy if you've not seen it) and talked the husband into pausing while I ran outside to snap a couple of pics.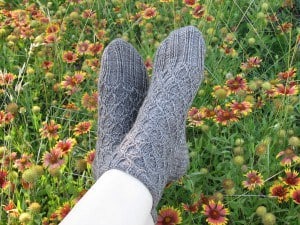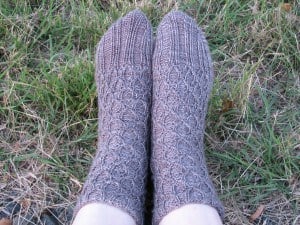 I like how these feel on my feet. (and no, my legs could not be any whiter. I think I could be a stunt double for Casper. Wait. Ghosts don't need stunt doubles. I could be a body double for him. You know, in case he has really fat calves….and now I'm realizing, he doesn't really have calves. nevermind.)

Pattern: Linaria Bipartita Socks by Hunter Hammersen
Yarn: The Plucky Knitter Primo Fingering – Elegant Elephant
mine raveled here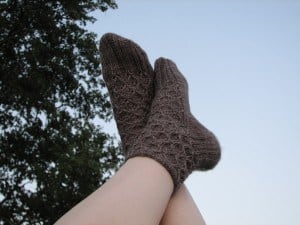 To see what other folks have finished, check out Tami's Amis, Wisdom begins in Wonder, and Natural Suburbia.
Tags:
Elegant Elephant
,
Finished Object Friday
,
FO Friday
,
hunter hammersen
,
Primo Fingering
,
The Plucky Knitter