I forced this yarn to stripe/bend to my will and I'm terribly pleased with these socks. But, they no longer make me think of Muppets and Rainbow Connections. Now, they make me think of lessons learned, how happy I am that the person they're going to LOVES them, and the one time in my life people compared me to a saint.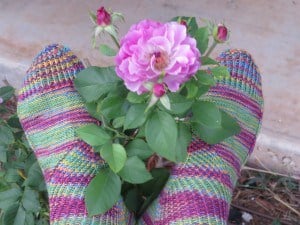 Pattern: Vanessa antiopa Socks by Hunter Hammersen

Size: Medium

Yarn: Lorna's Laces Solemate
When I hand washed/blocked these socks, they sank like rocks in water. I was surprised by this as my wool socks float. It seems that this yarn (55% superwash merino, 15% nylon, 30% viscose (rayon) fiber that interacts with your body's microclimate to moderate temperature from being too hot or too cold) does not seem to have the water repelling properties of wool.
Colorway: Rainbow

Mods: The toes should have been all purled, but the giftee and I agreed that we prefer ribbed toes, so the toes match the cuff ribbing.

Needles: 2.5mm for the leg, 2.25mm for the foot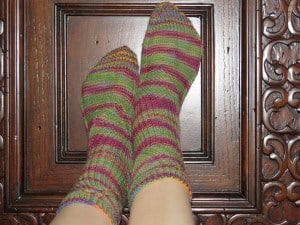 To see what other folks have finished, check out Tami's Amis, Wisdom begins in Wonder, and Natural Suburbia.
Tags:
hunter hammersen
,
Lorna's Laces
,
Rainbow
,
socks
,
solemate
,
Vanessa antiopa
,
yarn